Builders & Developers
Products your Homebuyers want, Services & Support you need
| | | |
| --- | --- | --- |
| | | As a builder, you can profit if you know how to meet the demand of your buyers. With ClosetMaid you can capture more sales by offering basic solutions alongside closet and storage upgrades to maximise your product offering, increase project spend and without taxing your own resources. |

ClosetMaid is the perfect partner for your Construction or Devlopment project.
Our innovative and budget friendly closet systems will add value to your homes and help you to give your customers maintenance free storage for life!
We already work with a whole network of builders and property developers who consistently use our products across a range of developments. Their continued business lets us know we're getting it right!
We can work with you to create the ideal storage system for your application, or you can pick from one of our many "off the shelf" designs to suit your requirements! Whether you need an entire walk in closet, reach in closet, pantry or airing cupboard shelving, ClosetMaid has something to solve every home storage problem.
ClosetMaid Professional Services
| | | | | |
| --- | --- | --- | --- | --- |
| | Consultation: No one knows ClosetMaid systems better than our team of professionals. We can help make sure you have the right system for the right application every time, taking into account budget thresholds and design preferences. | | | Design: Well designed storage is essential for meeting clients needs. Our design team will gladly take on the design task to help you maximise the storage potential for your clients. We have a range of pre-designed solutions for people who are on a strict timeline, or just to give you some ideas of what can be achieved. But if these don't suit, leave it with us and we'll come up with a bespoke package just for you! |
| | Good/ Better/ Best: ClosetMaid have a variety of products with optional upgrades and accessories to help your clients make the most of their space, and your sales team maximise spend potential. | | | Logisitics: Our team will help you keep your project on schedule. With timely delivery direct to site, and efficient design services - from start to finish we can ensure your job stays on track and is delivered to your client as expected, when expected! |
Why should I use ClosetMaid instead of other more traditional solutions?
ClosetMaid wire shelving is packed with features! Take a look at some of the key points we think will make you want to give us a try, below:
> Cost effective - Complete your project 'on budget'
> Cheaper than wood with no loss of strength
> Easy, quick & simple installation
> An exact fit every time - Trim to suit the job
> A range of shelf sizes to suit your application
> Two fixing systems - Fixed mount or adjustable
> Tough white vinyl coating
> No painting or finishing required
> Maintenance free - Just install it and forget it
> Purchase as a complete kit or in component form
> Can be installed before or after floor covering
> A range of accessories for up-selling opportunities is also available
> Available from stock ensuring on-time delivery.
It's easy to see why ClosetMaid was voted Brand Used The Most by Builder magazine in the USA for eight years running.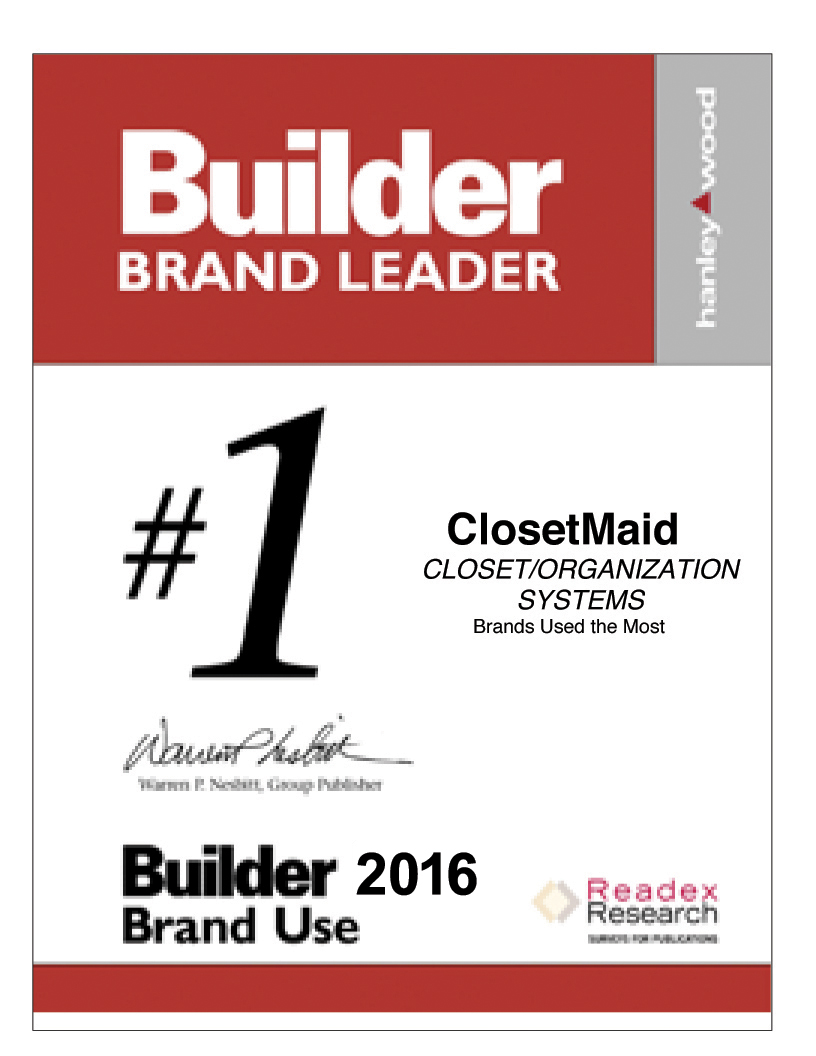 Ready to discuss your project? Call us on 01622 870050 or email us: designteam@closetmaid.co.uk