Frequently Asked Questions
Want to learn more about ClosetMaid and our products? Here's a good place to start!
Can't find the answer to your specific question? Give us a call on 01622 870050 or email us - sales@closetmaid.co.uk

What is ClosetMaid?

ClosetMaid is a well known and established brand in the USA, Australia, Asia and South America. Their main products are steel wire shelving systems that create wardrobe, linen cupboards, pantry's and garage storage systems.
As well as innovative and affordable wire shelving solutions, ClosetMaid also produce a whole range of accessories to complement their shelving systems.
They have been producing wire shelving in the USA for over forty years, and we are pleased to now be supplying their fantastic systems to consumers in the UK!

I have an area that I would like to turn into a walk in wardrobe/ reach in wardrobe/ linen cupboard/ pantry, can you create a custom design for me using your shelving systems?

Yes, we can create a custom design just for you based on your exact dimensions. A custom design costs nothing, is obligation free and we can make as many changes as you like until you are 100% satisfied with the outcome.
If you click here, you will be taken to the custom design page, where you can fill in your details for custom design options. We will then get back to you with a design within 5 working days. If your room is an odd shape, it may be useful for you to sketch a plan of your space or room, and send it in to us with your name as a reference, using any of the contact methods on our contacts page.

Do your items come with installation/ assembly instructions?

Yes, most of our products come with installation/ assembly instructions included. If you are having any problems, or your installation/ assembly instructions seem to have gone missing, please give us a call on 01622 870 050 and speak to one of our members of staff who will do their best to solve your technical queries on the line, or send a copy of the instructions out to you. Alternatively visit our installation support page for videos, guides and PDF versions of our instruction sheets.

Do you have everything in stock?

Most items we have in stock and ready to be shipped. In some cases we may have to wait a few days for stock to be replenished in which case we will call or e-mail you to let you know how long this will take.

How will I know when my items will arrive?

Our maximum delivery time is 10 working days for UK mainland, 14 working days for Ireland and offshore UK. If you have ordered large items such as a wardrobe system, we will use a carrier, who ask that someone be around to sign for the delivery. Therefore we endeavour to e-mail or call you to let you know when it is ready to be sent out, so you can let us know what day will be best for you! If you have ordered small items that can get sent in the post, we will send these out within ten working days from receipt of order.
What's the difference between the types of shelving?
We offer 4 different styles of shelf, click here to find out more about each shelf type;
www.closetmaid.co.uk/blog/whats-the-difference
Can I wash Cubeicals/ Decorative storage fabric drawers?
Your fabric drawers can be surfaced cleaned. We recommend using a soft damp cloth with simple water or non-abrasive, non bleaching detergents.
How do I clean my wire shelving or remove sticky labels from hang bars etc?
We recommend using "Sticky Stuff Remover" or White spirit to remove sticky residue or labels on shelving and hardware. To keep your shelving clean, use a soft damp cloth. Do not use abrasive cleaners on the shelving or hardware to prevent scratching or compromising the integrity of the vinyl coating.
Are the Selectives, Cubeicals, Stackers or Decorative (laminate items) storage range waterproof?
No, our laminate items are not waterproof. We recommend drying any spills or excess water immediately to prevent damage to the laminated surface.
We also do recommend using them in areas prone to damp, such as the garage.
Is ClosetMaid's wire shelving made from steel or aluminium?
All of ClosetMaid's wire shelving is made from zinc coated steel, which is then coated in vinyl.
What are ClosetMaid's laminate or wood products made of?
Most of our products are made from a combination of engineered woods - a mixture of high quality, hard and soft wood materials which generally come from the surplus of the original lumber processing. Commonly referred to as MDF (medium density fiberboard) and composite wood, these materials are wood fibers bonded together with a synthetic resin in a process that combines high heat and pressure to make a very stable, environmentally friendly product. The result is dense, strong panels of fiberboard and/or particleboard (composite wood) which are then laminated with durable, attractive finishes. These materials are then further manufactured into furniture components in a precision, state of the art manufacturing facility. Components are inspected and packaged with high quality, European hardware that has been designed to make home assembly quick and easy.
How much weight can ClosetMaid wire shelving hold?
ClosetMaid shelving is made from steel and is therefore, by nature - Strong! Many people are concerned when they hear the phrase "wire shelving", expecting something flexible and not particularly load bearing! However, ClosetMaid know that storage spaces take a lot of strain around the home, and have therefore developed two mounting systems with varying weight load capacities to help you pick the system most suited to your requirements. Below is a table illustrating the weight capacity of our shelving systems set out by the manufacturer. If installed to the manufacturers guidelines, and onto walls which are up to standard building regulations, you can expect the below load capacities:
Fixing type

Solid/ block wall

Stud/ Plasterboard wall

ClosetMaid Wire shelf with
Regular/ Fixed Mount hardware

15kg per linear 30cm

35lb per linear ft


15kg per linear 30cm

35lb per linear ft

ClosetMaid Wire shelf with adjustable
ShelfTrack hardware

34kg per linear 30cm

75lb per linear ft

30kg per linear 30cm

67lb per linear ft
This means that for 1.8m/ 6' shelf, if you use our regular/ Fixed Mount shelving on a solid wall it will hold up to 90kg or 210lbs of weight! That's a lot of stuff!
If you need something even more heavy duty, the same 1.8m/ 6' shelf installed using the adjustable ShelfTrack mounting system on a solid wall will hold 204kg or 450lbs! This makes it ideal for people with plenty to store or people who have a lot of heavy articles such as biking leather/ diving gear, or even just for use in the pantry or garage!
Can I order shelving, parts and hardware individually?
Yes, you can. You can either order via www.closetmaid.co.uk or visit our retail partner www.organisemyhome.com where you will find the most comprehensive offering of ClosetMaid shelving and hardware. Create your own design or add to your exisiting ClosetMaid service by purchasing shelving and hardware in the quantities you require.
How do I request broken or missing parts for my ClosetMaid item?
If you have ordered a ClosetMaid item and you were missing some items, or some pieces arrived damaged, then we ask that you contact the retailer you purchased the item from. If you have missing or damaged pieces, ClosetMaid will be able to offer you replacements for these items, via your purchase channel. If you made the purchase directly with us, please call us with your order details: 01622 870050.
If you have changed your mind about a product, or are not satisfied with the item, again we ask that you contact the retailer which you purchased the item from and refer to their terms and conditions.
Where can I buy ClosetMaid?
You can buy ClosetMaid from a number of retailers. If you would like components, shelving or accessories, you can buy directly from our website.
If you would like to purchase a kit or package or receive a bespoke design then we recommend you visit Organise My Home (www.organisemyhome.com)
Kits are also available from Argos and Wayfair, and you can also find ClosetMaid on Amazon & eBay.
To find out more about available product ranges at various retailers, please click here.
Assembly
How long does it take to install ClosetMaid?
Assembly time varies depending on the system being installed and the level of DIY skill. We have a whole range of installation videos, instruction sheets and design guides to help you along the way though! Visit our Install page for more details.
Can I get ClosetMaid professionally installed?
We have teamed up with Hire a Hubby who offer a brilliant handy man service. They have a team covering most of the UK, with some "Hubbys" willing to travel beyond their normal areas. We recommend you get in touch with Hire a Hubby with details of your project so that they can survey and quote for your requirements. They are happy to simply assemble your Cubeicals organiser or install your walk in wardrobe for you! Click here to get in touch and see if your area is covered!
Can I fix ClosetMaid shelving onto Stud Walls/Plasterboard?
Fixing ClosetMaid shelving to plasterboard/stud is not a problem as long as your walls meet with current building regulations and are in good condition.
ClosetMaid is an American brand and since most of their building work uses stud/plasterboard walls all of the fixings have been developed to work with this style of wall as well as solid.
If you are worried about the strength of your plasterboard wall then we recommend using 'redi drives' when installing Shelf Support Brackets.
These redi drives are special plasterboard fixings which you drill into the wall first of all and then screw our support brackets into to create an extra strong fix.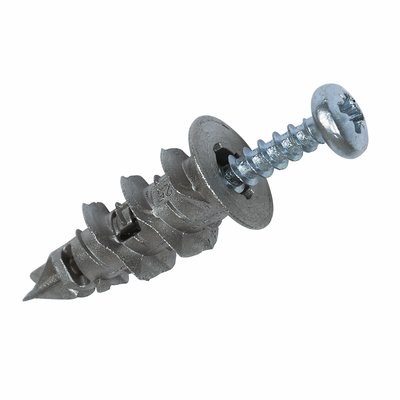 Can I install my ClosetMaid product into metal studs?
We do not recommend installing directly onto metal studs. Most metal studs are thin and will likely strip a screw enabling it to come away from the wall. Instead use a toggle bolt to install directly onto the drywall/ plasterboard.
What tools are required for assembly?
Each product/ system requires slightly different tools for the job. Specific tool requirements will be detailed in your instructions for the product that you order. Commonly used tools for wire shelving installation are a power drill with a 6mm drill bit, tape measure, spirit level, Phillips screw driver, and nylon mallet/ hammer. For most of our laminate ranges a nylon mallet/ hammer and a Phillips screw driver are required.
Can I cut ClosetMaid shelving?
All of ClosetMaid's wire shelving can be cut down to any length which you require. We recommend using boltcutters but you can also use a hacksaw.
Use 203/204 End Caps to cover the ends of the shelves.
Note that the depth of the shelving cannot be cut down.
Can I use ClosetMaid corner kits with adjustable ShelfTrack mounting?
No, unfortunately there are no brackets to properly support corner kit shelves using the ShelfTrack system. You can butt fit shelves in the corner using ShelfTrack, and if using SuperSlide shelving you can also add a corner hanger bar to continue hanging sections around two or more walls.
My shelving is coming out of the back wall clips, how do I keep it from falling?
Firstly, ensure that all installation instructions were followed correctly as per the guidelines.
If all instructions were followed correctly, we recommend installing concrete/ down clips. If this still does not work, we recommend adding supports to strengthen the shelf.
Can I install 6"/ 9" deep shelving using ShelfTrack?
Unfortunately not. 12"/ 30.5cm deep shelving is the shallowest shelf which will fix to ShelfTrack.
Can I add wheels to my unit?
We do not recommend adding wheels to a product unless they are available as an option to add (wire drawer units).
How far down the wall does a shelf support bracket come?
The bracket will sit approximately 13"/ 33cm from the top of the wall clip to the base of the shelf support bracket.
How many wall clips do I need per shelf when using the Fixed Mount system?
You will need 1 x 991 Wall Clip for every foot of shelf plus one extra.
For example a 4' wide shelf will need 5 x 991 Wall Clips and a 6' wide shelf will need 7 x 991 Wall Clips.
What is the correct way to install the Shelf Support Brackets?
You must ensure that the 'claw' of the bracket sits either side of a deck wire. See image below.

What size Shelf Support Brackets do I need to order?
9" Linen = 1162
10" Shelf & Rod = 1162
12" Linen, Shelf & Rod, SuperSlide & CloseMesh = 1164
16" Linen & CloseMesh = 1166
16" Shelf & Rod, 10" Hang Rod position = 1166 at every 'Open End' and 1162 at least every 3' along the length of the shelf to support the hang rod position
16" Shelf & Rod, 12" Hang Rod position = 1166 at every 'Open End' and 1164 at least every 3' along the length of the shelf to support the hang rod position
16" SuperSlide, 10" Hang Bar Position = 1166 at every 'Open End' and 1162 at least every 3' along the length of the shelf to support the hang bar position
16" SuperSlide, 12" Hang Bar Position = 1166 at every 'Open End' and 1164 at least every 3' along the length of the shelf to support the hang bar position
How many end caps do I need for each shelf?
| | | | | |
| --- | --- | --- | --- | --- |
| | Linen Shelf | SuperSlideShelf | Shelf & Rod Shelf* | CloseMesh Shelf |
| 9" Deep | 8 x 203 | N/A | N/A | N/A |
| 10" Deep | N/A | N/A | 4 x 203 & 4 x 204 | N/A |
| 12" Deep | 8 x 203 | 10 x 203 | 4 x 203 & 4 x 204 | 8 x 203 |
| 16" Deep | 10 x 203 | 12 x 203 | 6 x 203 & 4 x 204 | 10 x 203 |
| 20" Deep | 10 x 203 | N/A | N/A | 10 x 203 |
* Use 168 'Open End' caps where you have an 'Open End' to stop garments slipping off of the end of the hang rod.
Top Tips for Planning a Closet
What is the recommended depth for a Reach In Closet?
We recommend a depth of 51cm (20") - 56cm (22") to accommodate hanging garments.
If your chosen layout has a freestanding drawer unit included please allow a minimum depth of 58cm (23").
What is the recommended minimum width to create a Walk In Closet?
We recommend a minimum width of 173cm (68") - 183cm (72").
Allowing approximatley 56cm (22") either side of the closet for your garments to hang and a walk way of at least 61cm (24") down the centre of the closet.
If your Walk In Closet space is less than 68" wide then we would recommend creating an 'L-Shaped' layout.
What is the recommended minimum height when creating two tier hanging sections?
When creating two tier hanging sections we recommend placing the top tier shelf 213cm (84") from the floor and the lower at 106cm (42").
We therefore recommend a minimum ceiling height of 216cm (85").
I don't have hanging space in my layout, how deep does my closet space need to be to allow for the fixings?
If using 30.5cm (12") deep shelving we recommend a minimum enclosure depth of 35cm (14").
If using 40.6cm (16") deep shelving we recommend a minimum enclosure depth of 46cm (18").
If using 50.8cm (20") deep shelving we recommend a minimum enclosure depth of 56cm (22").

Are side walls required for the shelving to fix onto?
Our ShelfTrack fix system only requires fixing along the back wall. No side walls required.
The Fixed Mount system will benefit from being attached to side walls, where available.
How far will the hang bar sit from the back wall?
12" deep SuperSlide Shelving - The hang bar will sit at the front lip of the shelf (12" from wall).
16" deep SuperSlide shelving - The hang bar will sit 12" from the back wall.

12" deep Shelf & Rod Shelving - The hang bar will sit at the front lip of the shelf (12" from wall).
16" deep Shelf & Rod shelving - You can opt for the hang bar to be at 10" or 12" from the back wall.