Request A Design

Our friends at Organise My Home offer a brilliant design service using our ClosetMaid range. So if you're looking for something specific to suit your needs, or if you have an awkward space that you're not sure how to use, fill in the form below and your request will be sent to their design team to come up with something for you.

Use the images below as a guide to which section refers to which wall. The images are birds eye views of a straight forward walk in enclosure & reach in enclosure, however we realise that you may only have an 'L' shaped enclosure or some walls may not be available. In these instances, please simply fill out the dimensions for the walls which you do have available and enter N/A for walls which do not exist in your enclosure.

Please make sure to fill out dimensions of ALL walls in your enclosure, even if you do not wish to use certain walls, so that we have a full picture of the room you are utilising, and have a better idea of what will fit in the room and how it is configured. This will help us plan your space properly, and also ensure no fixings or shelves once installed, will be in your way.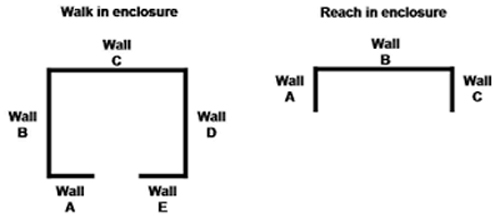 Please note your form will be sent to Organise My Home. Your design will be dealt with by their team, and if you decide to make a purchase it will be with www.organisemyhome.com. Unless you have a trade account with ClosetMaid.co.uk set up.
Thank you.