Monday, 2 May 2016 | Sally
You can buy ClosetMaid products direct from our online store.
If you're in the trade you can simply visit our online store and buy all the shelving and hardware you need to suit your job.
If you're not sure how many fixings etc. you need, just call us on 01622 870050 and one of our sales team will be on hand to give advice for your next project.
Friday, 29 April 2016 | Sally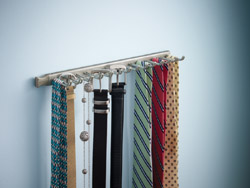 NEW Nickel finished sliding tie and belt rack! Now available to buy online £19.99.
Beautiful nickel finish, and mounts to a wall/ door/ side of a wardrobe. Use the tab to pull and slide toward you for easy access to your newly organised accessories!
Friday, 1 April 2016 | Sally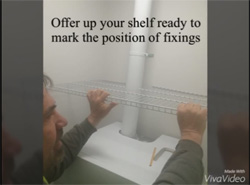 See how easy it is to install our regular fix shelving, even when there is an obstacle to contend with in this short step by step video!
Thursday, 3 March 2016 | Sally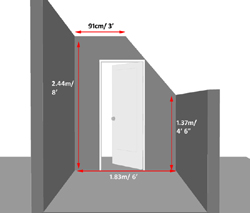 Designing your own walk in wardrobe can be a daunting task, and when you throw sloping ceilings into the mix it becomes an even more challenging task!
Here, we wanted to show you how to make the most of your room when you have obstacles such as low / sloping ceilings to overcome. This hopefully will give you the confidence to plan your own space and order a ClosetMaid system to suit your requirements, just like a pro!
All you need to design your new walk in wardrobe, is a tape measure, a ruler, a piece of A4 paper, a pencil and an idea of how you'd like to use the space.
Tuesday, 1 March 2016 | Sally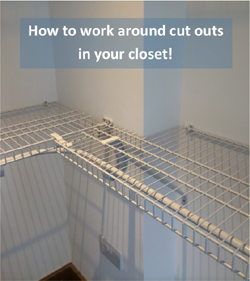 Our design team often receive requests from people who have a fairly straight forward space, except for one or two corners with "cut outs". These may be because of boxed in pipe work that runs through the corner of the room, or perhaps a supporting beam of the house. Whatever the reason, they can become a bit a nuisance and prevent any of our "standard" wardrobe packages and designs from fitting their space.
In this tutorial, we show you how you can still make the most of these awkward corners and what additional hardware you may require to make a standard package suit your space.