Showhouse
Tuesday, 25 September 2012 | Sally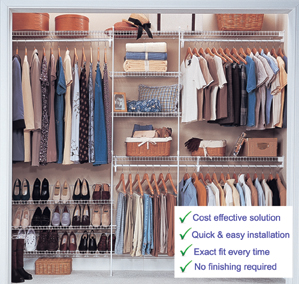 This month we ran an advert in Showhouse magazine!
Did you spot us?
Some of you may well be visiting our website now thanks to this advert, and if you are you were probably drawn to the points we made!
ClosetMaid can provide you with:
Cost effective storage solutions for any room in the home for your project(s)
A quick & easy installation, saving you time on site
An exact fit everytime. Order in standard lengths, but cut shelving down to suit available space exactly, everytime. Just like wood you can make it fit your space.
No finishing required. Unlike wood, you don't need to prime & paint the shelving. Theres no need to sand the edges, just use the caps (included in all custom / standard kits) to finish off any cut ends!
It really is so simple to use ClosetMaid, and we have something to suit all budgets.
That's why we're number one in the USA!
Want to know more about ClosetMaid & our products? Click here! Or Click here for our gallery.
If you'd like to learn more about how we can helpbuilders / developers then click here!
If you'd like to find out where you can buy click here!
Want to buy online now? Click here to shop!